AXES Sapporo has the largest exhibition hall in Hokkaido
AXES Sapporo (Sapporo Distribution Center) in Sapporo is one of the largest convention centers in Hokkaido Prefecture, with a large exhibition hall of 5,000 m² and an adjacent outdoor exhibition hall of 2,400 m². It has a building structure with 1 floor underground and 2 floors above ground. The large exhibition hall has a width of 100m and a depth of 50m, and is a pillarless structure that does not use any pillars, so the large space can be freely laid out according to the event.
AXES Sapporo Outside View
In addition, the large exhibition hall can be divided into 3/4 (3,750 m²), 1/2 (2,500 m2), and 1/4 (1,250 m²), making it ideal for trade fairs, various events, and banquets. etc., can be used for multiple purposes. Hokkaido's largest business event "Business EXPO" is also held every year at this venue, and is one of MICE representatives of Hokkaido.
Equipped with necessary equipment for various exhibitions
The large exhibition hall, where various exhibitions and events are held, also hosts exhibitions of vehicles and large machinery, as well as international trade fairs, gatherings, and parties. In addition to being fully equipped with air-conditioning equipment, the lighting, electrical power equipment, water supply and drainage equipment, telephone lines, etc. used in the exhibition booths are all built into the floors and walls.
There are 4 large loading/unloading entrances of 4m x 4m, and loading by large trucks is also possible, improving work efficiency.
Outdoor exhibition space and free parking lot that can accommodate 1,100 cars
The 2,400㎡ asphalt-painted outdoor exhibition space has a sense of openness unique to the outdoors, making it the perfect space for events and exhibitions that visitors can easily participate in. Of course, it is also possible to install electricity, water supply and drainage equipment outdoors.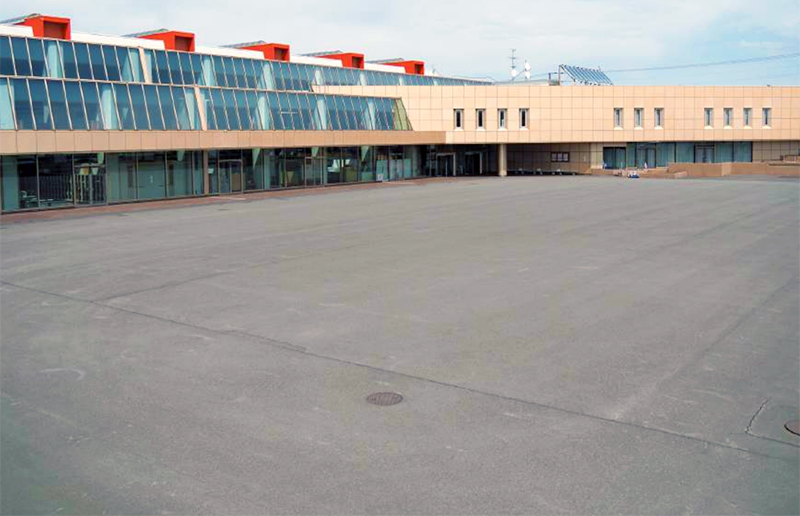 Outdoor Exhibition Space 2,400㎡
If you use it together with the large exhibition hall next door, you can expand the range of event presentations, and the 1st, 2nd and 3rd parking lots that sandwich the venue are free parking lots that can accommodate a total of 1,100 vehicles. It is an outdoor exhibition hall that can be used all year round due to the climate of Hokkaido.