Report from Local Volunteer
Miso Soup ~ Japanese "Soul Food" with a Long History ~
The origin of miso soup dates back to the Kamakura period, which is called "the era of samurai." Before the era, miso was not used for making soup because it was not a form of paste and it was eaten as a kind of preserved food. During the Kamakura period, the procedure to make miso into a paste was introduced, and samurai started to eat miso soup.Their diet is called "ichiju-issai," which includes a bowl of rice, a cup of miso soup, a main dish and pickled vegetables.
There is another story about the origin of miso soup. It is also said that miso soup might be first created during the Sengoku period, which is an era of a lot of battles. Samurai ate miso soup to prevent heat stroke during battles. Either way, miso soup gradually spread among ordinary people too. In the Edo period, the popularity of miso soup increased rapidly. Following these steps, miso soup has become our soul food which has led to our current daily diet.
Actually, there are so many options about what we can add to miso soup. We can be creative to make our own special miso soup. If you are interested in popular ingredients, they are tofu, seaweed, long green onion, fried tofu, Japanese radish, to name a few. We can also enjoy various combinations of these ingredients.
These days, some unique miso soup recipes have appeared such as using canned fish, spices, soy milk, eggs or so on. We can make miso soup according to our mood or condition.
Health Benefits of Miso Soup
There are a lot of health benefits of miso soup. Firstly, it is good for gut health because miso is a fermented food. Secondly, it is expected that miso can help to prevent lifestyle-related diseases such as high blood pressure, obesity, diabetes or so on. Also, miso soup can prevent some types of cancers such as stomach cancer or breast cancer.
There is another good news, especially for women. It is said that soybeans, which are the main ingredient of miso, improve skin condition and hormonal balance.
Some people are worried about the amount of sodium in miso soup, but it is not a big issue when we compare the sodium in a cup of miso soup with other commonly eaten foods. Also, we can add some potassium-rich ingredients to miso soup to help our body to excrete sodium.
Miso Soup and A Long Life
Ieyasu Tokugawa is a really famous person in Japanes history. He established a basis of the Edo period, which lasted for about 260 years. During that time, the average lifespan was about 37 years, but he lived to be 75 years old, which is twice as long as the average lifespan at that time.
It has been said that he was a health conscious person and ate miso soup which contained various ingredients. We might be able to say that miso soup was a secret to his extraordinarily long and healthy life.
Saitama Local Foods Made with Miso
Saitama is the largest producer of taro, which is a kind of starchy potato. It is also the second largest producer of Japanese mustard spinach, spinach, green onion and turnip. There are various kinds of miso soup and local foods that use these products, all of which are delicious, and we can be proud of having these cuisines as part of our food culture. In addition, there are some breweries in Saitama to make soy sauce or miso, which are traditional Japanese seasonings, and traditional technology is used there even today.
Here are some Saitam's traditional foods made with miso. For example, in the Chichibu region, there is a local food called kozyu-han. As one of the famous local foods, we can mention miso potato, which is a tempura-style potato covered with salty-sweet miso sauce. You can make these foods following recipes or you are welcome to come to Saitama to try them. We would like you to try Saitama's local foods. If you click the pictures of local foods below, you can learn about the history or roots of these foods.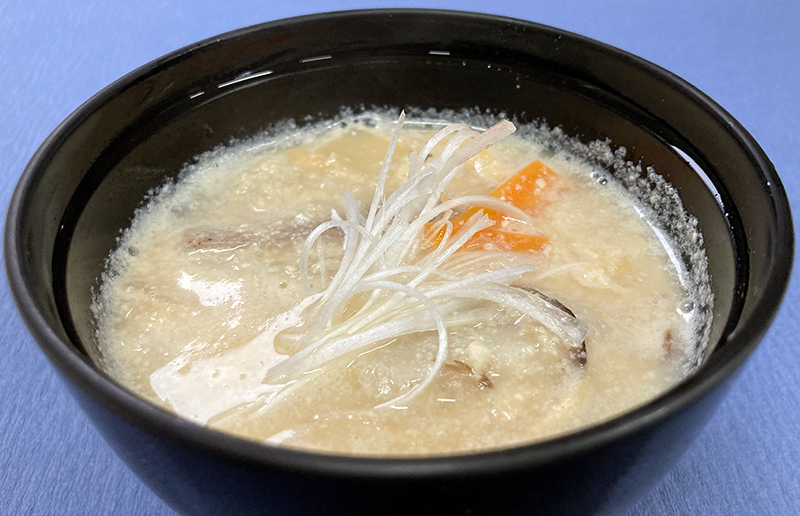 Gojiru
Gojiru is a local food which is mainly loved by people in the regions where rice farming and crop farming were conducted.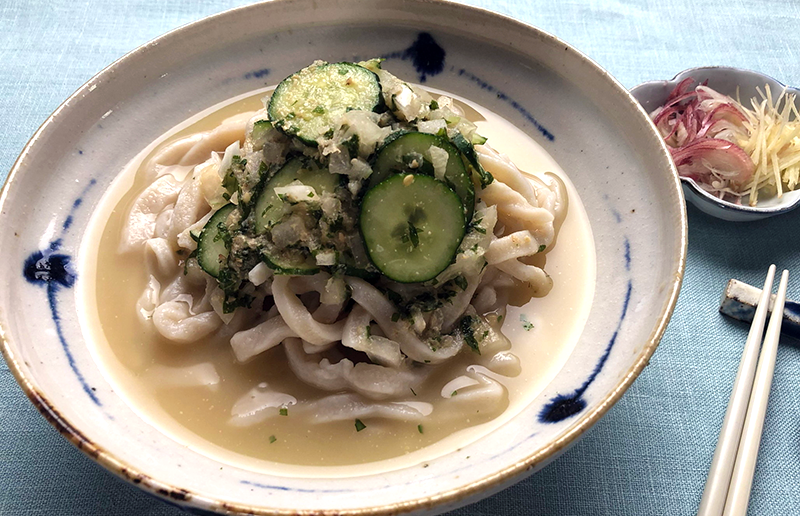 Hiyajiru / Suttate
This is a local food which has been developed in various regions in Japan. People have used vegetables and fish which can be taken in their regions.
Miso Potato
Miso potato is a traditional local food in Chichibu. Soft and flaky pieces of potato are eaten with salty- sweet miso sauce.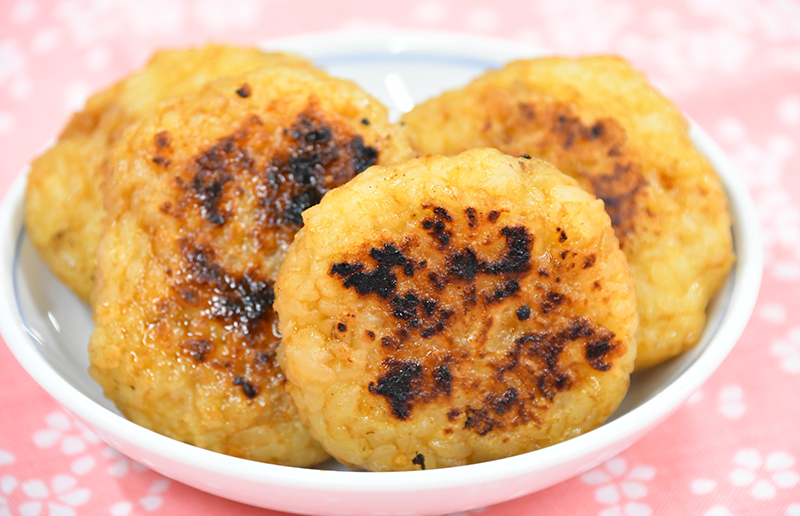 Meshi-Mochi
This is a cuisine which is made of leftover rice and flour mixed with water. These two ingredients are mixed and baked. It is called meshi-mochi, yakibin or yaki-mochi depending on regions,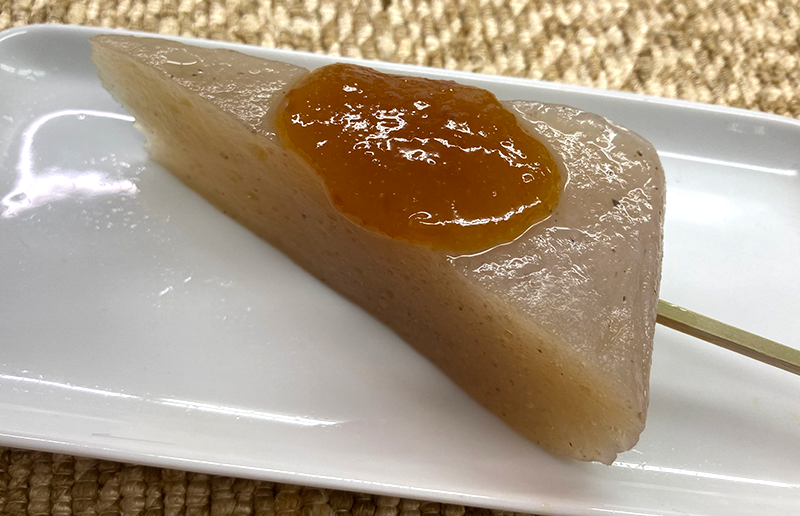 Konjak Miso Oden
Konjak, which is made from konjak potatoes, is one of Saitama's famous products. It has a unique flavor and texture.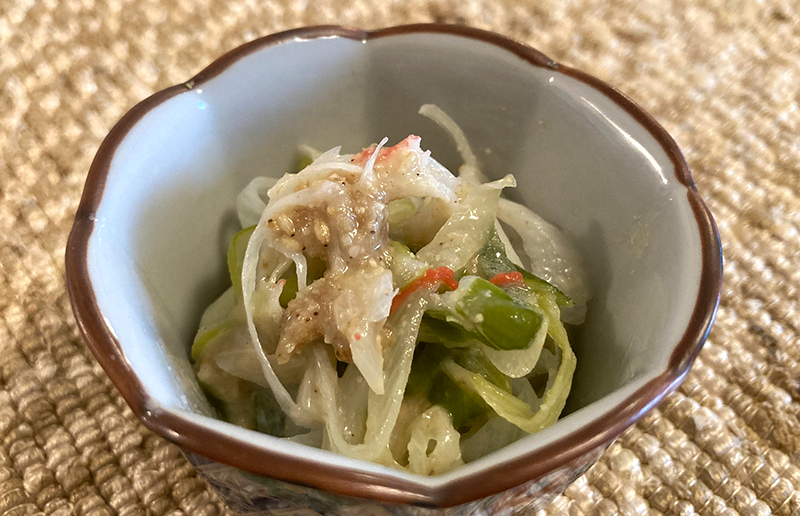 Negi-Nuta
Saitama is the second largest producer of green onion. Fukaya green onion is famous as one of Saitama's special products. It goes well with the flavor of vinegared miso, and the taste is exceptionally good.
Hello. I'm Haruka. I have lived in Saitama prefecture for more than 25 years. I would like to introduce Saitama focusing on food and culture. I hope my articles help you get some information about Saitama. Also, I'm happy to tell you about interesting aspects of Japan.