Frozen konjac sweets that taste just like ice cream
Sydecas Inc., which mainly develops the food tech business in Kakogawa City, Hyogo Prefecture, has developed sweets using Shiso City's special blueberries and apple jam in collaboration with Shiso Maple Co., Ltd., which is engaged in regional revitalization projects. It is a sweet konnyaku "Ninja Bar" that uses "NinjaPaste", a konnyaku material developed in-house by Sydecas Inc. During the Golden Week holidays (from 10:00 to 15:00 on May 4th and 5th, 2023), a limited number will be sold at "Michinoeki Minami Haga".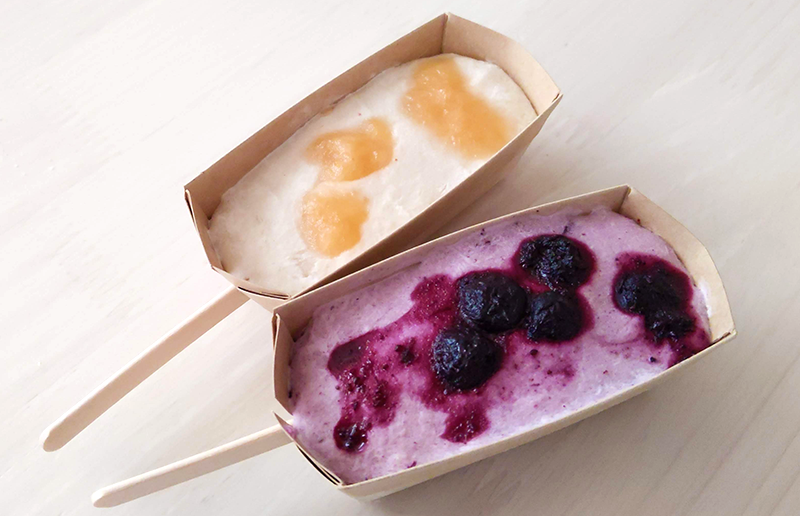 "Ninja Bar" sold for a limited time and quantity
What is NinjaPaste developed by NinjaFoods?
Sydecas Inc. launched the food tech business "NinjaFoods" in 2020 with the aim of realizing "a world where everyone can enjoy delicious food without restrictions". Developed "NinjaPaste" based on konjac, a traditional Japanese healthy vegetable ingredient. This paste-like konjac material is mixed with other materials, and then heated, frozen, or dried to reinforce the target fibers and form an irreversible gel to achieve strong binding molding.
After molding, it is resistant to retort processing and frozen storage, so it has the potential to become a key material indispensable for the development of new food ingredients. Since it is possible to mold foods that take advantage of the goodness of the ingredients without using gelatin, eggs, or starch syrup, NinjaPaste combine various new ingredients to create "next-generation foods."
Popular sweets made with NinjaPaste
Healthy Snack "Baked Supplement"
Eggs and flour are the basic ingredients that make Western sweets. Baked Sapuri has succeeded in molding bean curd refuse and creating a "dough" using Cidecus' original konjac-derived material Ninja Paste without using these two ingredients or milk. Dietary fiber derived from konjac aggregates with water and bean curd lees, making it perfect for intestinal activity.
The "Sustainable Veggie Jerky" series, which transforms non-standard vegetables that have to be discarded with next-generation konnyaku material NinjaPaste. Daikon radish, which has a reputation for being as sweet as a pear, and Atsumi turnip, a red turnip that is a specialty of the Shonai region. A super healthy snack with only 8.5kcal (radish) and 0.4g of fat per bag.
Konjac snacks exclusively for beer are a new type of healthy snack made with hardened nuts and spices, jointly developed with Knowledge Salon Bar Counter, and go great with beer. Its succeeded in baking a very healthy snack by solidifying only konnyaku without using sugar, starch syrup, flour, chocolate, etc. as binders.
Sydecas Inc. (Kakogawa City, Hyogo Prefecture, CEO: Masahiro Yoritama, hereinafter referred to as "Sidecas"), which develops the next-generation material-based food tech "NinjaFoods", is "forming with konjac" blueberries and apple jam, which are special products of Shiso City., developed a "Ninja Bar" that is frozen like ice cream.
2023 at "Michinoeki Minami Haga" (same location) operated by Shiso Maple Co., Ltd. (8-1, Haga-cho, Haga-cho, Shiso-shi, Hyogo Prefecture, President: Koichi Nahata, hereinafter "Maple"), which is a joint developer. A limited number will be sold from 10:00 to 15:00 on May 4th and 5th.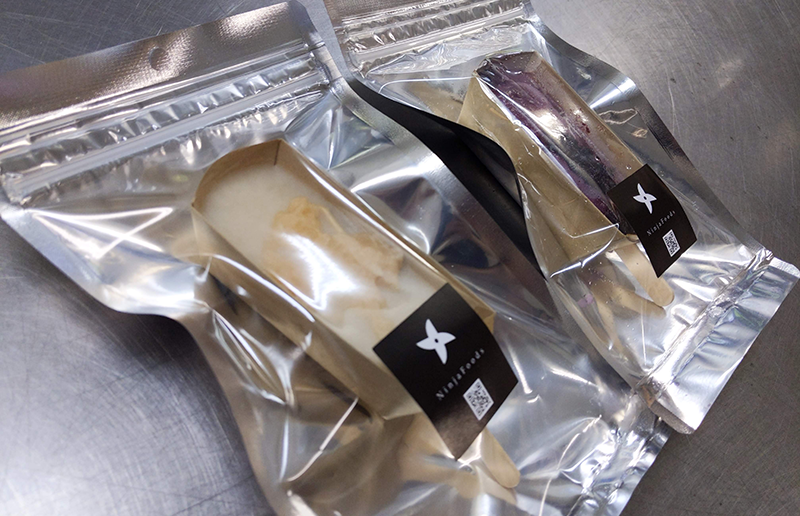 "Ninja Bar" sold for a limited time and quantity
The Ninja Bar is a "Sweets Konnyaku" made by freezing our original konjac material "NinjaPaste". Based on coconut flavor, we use plenty of Michinoeki Minami Haga's special blueberry jam and apple jam. The rich flavor and unique texture of konjac are attractive. In addition, dairy products, eggs, flour, preservatives, and coloring agents are not used.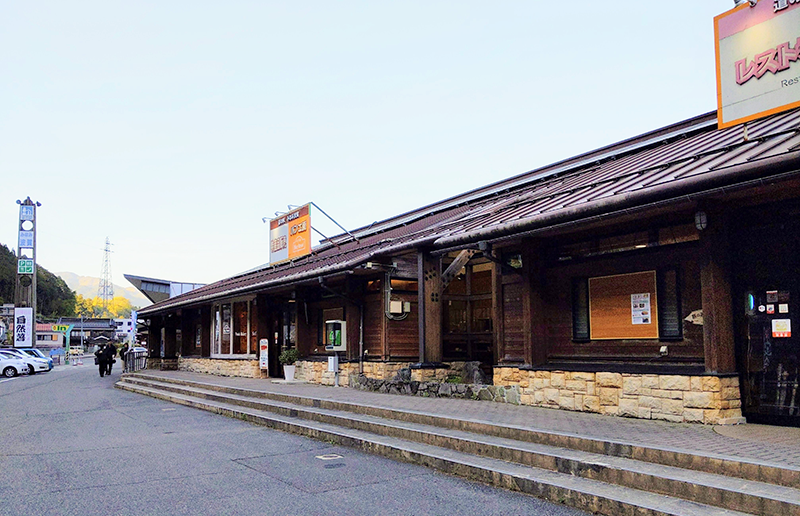 This time, as a test sale, a limited quantity will be sold at Michi-no-Eki Minami Haga only on May 4th and 5th (10:00 to 15:00 each). You can enjoy a cold and delicious Ninja bar for your Golden Week outing. As a GW limited price, it will be sold at 300 yen (tax included) per bottle. Due to the limited quantity, please forgive us when it is sold out.
Located along National Route 29, which connects Himeji and Tottori, this roadside station is surrounded by rich forests and you can enjoy clear streams. We develop and sell fresh vegetables and fruits, including blueberries and apples, which are specialties of Shiso City, as well as local specialty products.