Beautyworld Japan Tokyo 2023 will be held!
Beautyworld Japan Tokyo will be held for three days from May 15th (Monday) to 17th (Wednesday), 2023 at the East Building (Halls 1-8) of Tokyo Big Sight.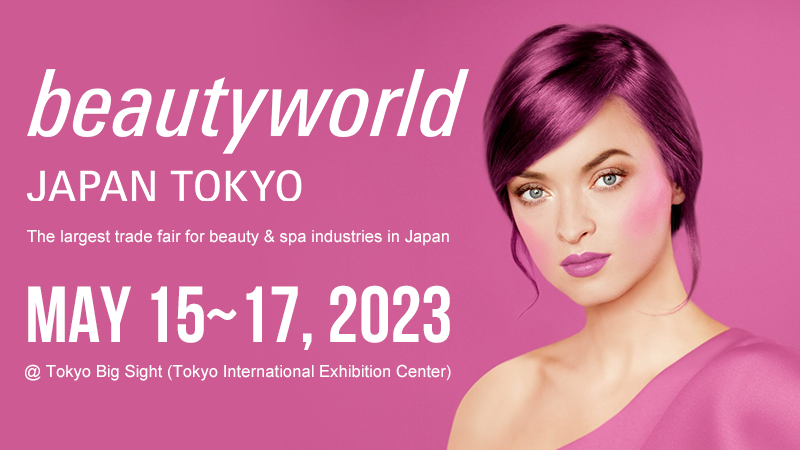 This trade show is a BtoB event intended for business negotiations, so the general public and those under the age of 16 are not allowed to enter. Admission is free, but pre-registration is required on the official website.
Beautyworld Japan Official Video: How to use Beauty World Japan
More than 800 exhibitors, the largest number ever
At Beauty World Japan Tokyo 2022 held last year, 672 companies (including 8 overseas companies) exhibited during the three-day period, and a total of 58,830 people visited.
More than 800 companies are scheduled to exhibit at Tokyo Big Sight in 2023, the largest ever, and 270 of them will be exhibiting for the first time this time.
In addition, about 100 overseas exhibitors have been selected, including the United States, Israel, Italy, South Korea, Thailand, Taiwan, China, France, Poland, and Hong Kong (as of March 15).
Beautyworld Japan 2022 Venue View
Beautyworld Japan Exhibition Composition
It consists of the following three parts. The "Exhibition Area" is an exhibition area for items and services necessary for salons and sales floors, such as long-awaited equipment and cosmetics, aging care technologies and products that are becoming more popular with the aging population, and store-bought products that customers will love. The "Stage Seminar" is a seminar content where you can learn knowledge and skills from gorgeous instructors who lead the industry. The "Exhibitor Presentation" is a place for exhibitors to present their technology and knowledge.
New Zone Coming: "Fem more" and "Tasty"
In addition to aesthetics, nails, beauty, health, and beauty, the "Fem more" zone, which deals with femcare and femtech, which has been attracting attention recently, and the "Tasty" zone, which deals with beauty foods, will be newly established.
"Fem more" to support women in the era of 100-year lifespans
Femtech and femcare, which provide products and services that solve various issues in women's life stages, are attracting attention as women advance into society, and the market is expected to reach 2 trillion yen by 2025. A new "Fem more" zone will appear in the East Hall 8, where products that solve women's unique worries and ailments will be collected and the necessity and importance of these products will be disseminated. Click here for details.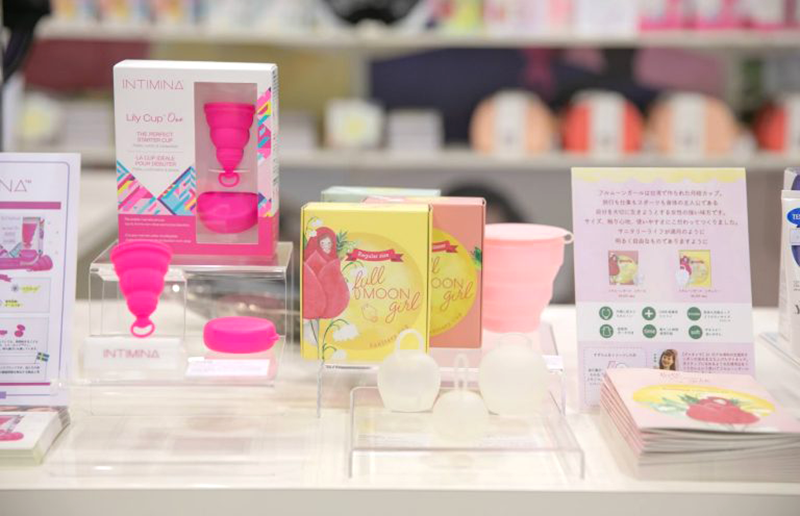 "Tasty", a collection of carefully selected ingredients
The "Tasty" zone will be opened in East Hall 3, where products that meet the needs of those who want to eat delicious food and become beautiful. We will introduce ideal foods, seasonings, and ingredients that satisfy the mind and body, and provide a place for business negotiations for owners and buyers who aim to create a salon that proposes sustainable diets. Click here for details.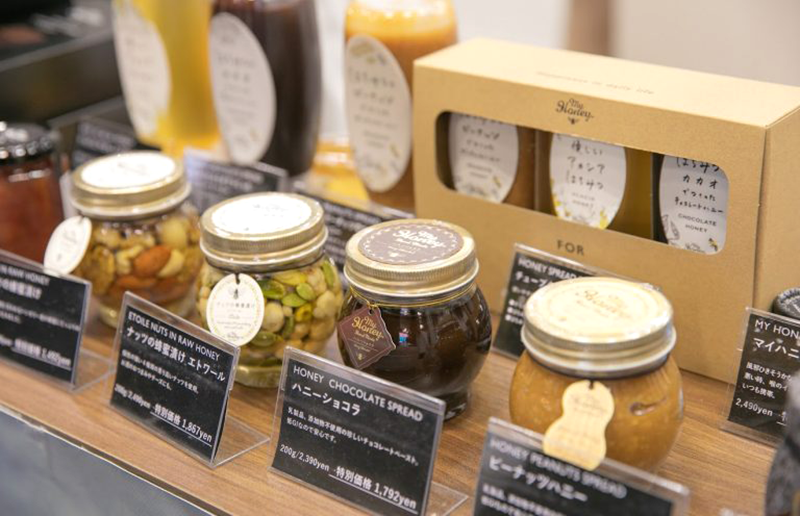 14 specialized zones to improve business negotiations between exhibitors and visitors
Platinum Hall / Cosmetics / Beauty Equipment: East Hall 7
Eyelash: East 2-6 holes
New! Fem more: East Hall 8
Business Support: East Halls 2-6
New! Tasty: East Hall 3
Academic: East Halls 2-6
Body + Beauty: East Hall 3
Tokyo Nail Forum Organizer: Japan Nailist Association: East Hall 1
Make-up: East Halls 2-6
Creative Hair: East Hall 2
OEM Package: East Halls 2-6
Cosmetics: East Halls 2-6
Spa & Wellness: East Halls 2-6
Beauty equipment: East Halls 2-6

If you want to see a related video list, click or tap the playlist icon displayed at the top of the video screen to display the video list and search for your favorite video.
A place to expand sales channels to salons and retailers and to research industry trends
About 70% of all visitors are salon-related people such as esthetics, hair, nail, eyelash, and side jobs, so effective PR is possible through demonstrations aimed at salon owners and technicians.
In addition, about 6,000 people are buyers from major department stores, select shops, wholesalers, trading companies, etc. who are looking for the latest beauty and health products, so there is a possibility of a large contract.
Approximately 80% of visitors "has the right to make purchase decisions" or "have influence over purchase decisions," enabling efficient order acquisition and marketing.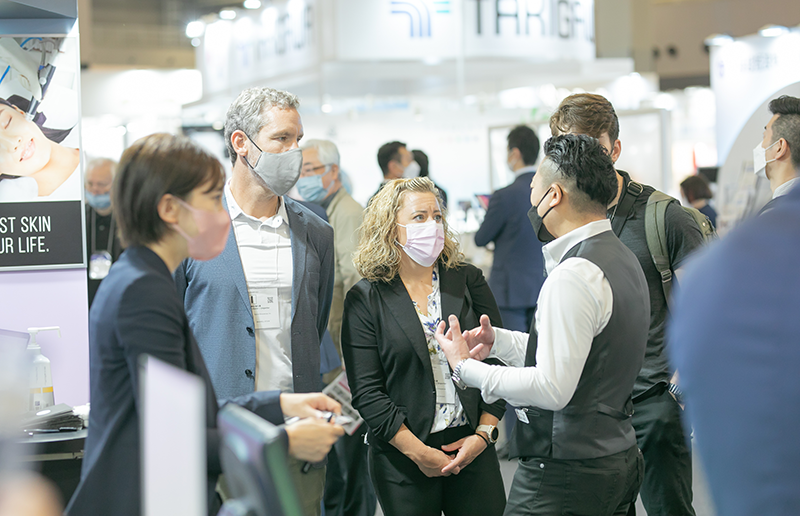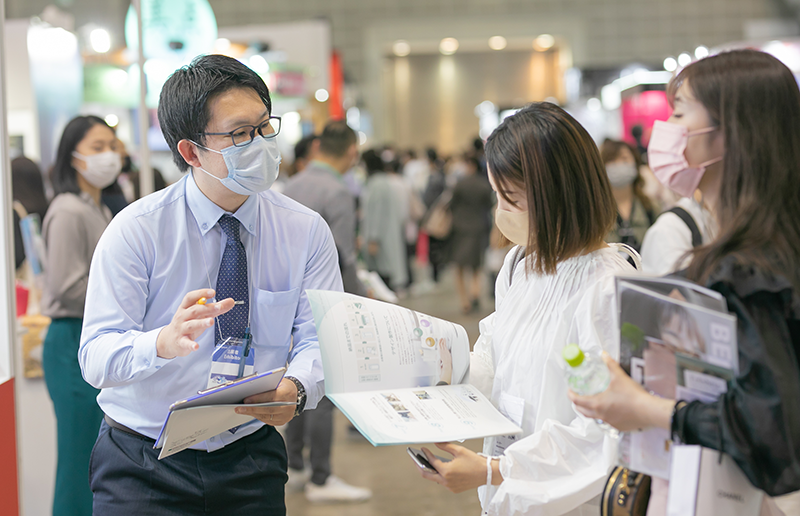 Cosmetics
Natural & organic
Beauty supplement
Beauty Equipment
Spa & Wellness
Nail
Diet & health
Salon equipment/equipment
Beauty-related goods
Eyelash
Hair
OEM & Package
Business support
Others
Esthetic/Hair/Nail Salon
Wholesale/Trading Company/Retail
Maker
Accommodation and leisure facilities
Medical institution
Others

If you want to see a related video list, click or tap the playlist icon displayed at the top of the video screen to display the video list and search for your favorite video.
Name
Beautyworld Japan Tokyo
Date:
May 15th (Mon) to 17th (Wed), 2023
Open:
10:00-18:00 (Last day 16:30)
Venue:
Tokyo Big Sight East Halls 1-8
3-11-1 Ariake, Koto 135-0063 Tokyo Pref.
Admission:
Pre-registration is required online. Please check the flow up to admission in advance. In addition, Beautyworld Japan is a commercial trade fair for the purpose of business negotiations and purchases, so it is not open to the general public. General people other than those involved in the industry and those under the age of 16 are strictly prohibited from entering.
Organizer:
Messe Frankfurt Japan Co., Ltd.
Contact:
03-3262-8939 | info@beautyworldjapan.com
Inquiries:
Contact Form
WWW:
Official Website
Hotels near Tokyo Big Sight