Satoyume Co., Ltd. starts LOCAL SDGs Workcation service!
"LOCAL SDGs workcation", a program to develop human resources who will promote SDGs, will start from Satoyume Co., Ltd., which supports regional revitalization! Satoyume, which develops regional revitalization projects in about 40 regions across Japan, acquired a national travel agency license in May 2022 and established a new Satoyume Travel Business Department.
This program will be the first project of the Travel Division. It is a new workcation that develops human resources who will be responsible for local x SDGs promotion through his experience of cutting-edge SDGs efforts in the region.
In the course-style session, we actually visited Koumi Town in Nagano Prefecture, Kahoku Town in Yamagata Prefecture, and Myoko City in Niigata Prefecture, and implemented a program that combined cross-industry interaction type workcation over 5 months. You can learn about the efforts in each region and expand your ideas for the future.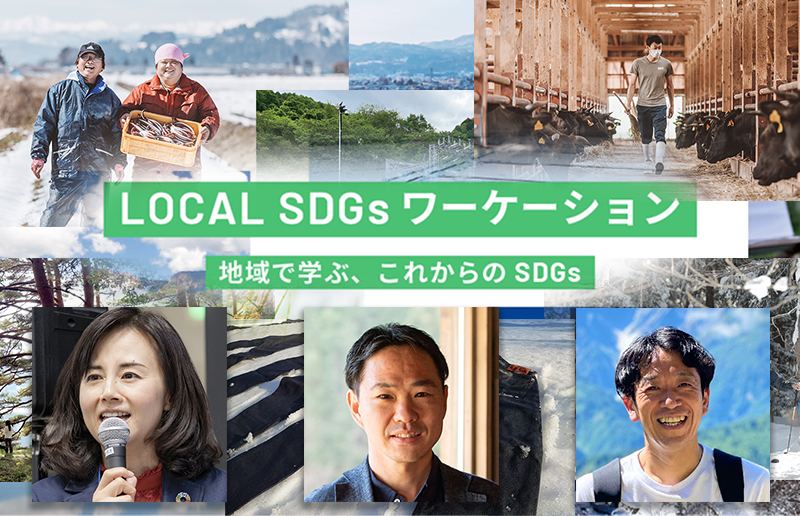 Satoyume Co., Ltd., which supports regional revitalization, has established a new travel division! Recruiting participants for the workcation program "LOCAL SDGs Workcation" to develop human resources who will promote SDGs!
Inter-professional exchange workcations that consider the future of regions, companies, and society will be held in three regions: Koumi Town, Nagano Prefecture, Kahoku Town, Yamagata Prefecture, and Myoko City, Niigata Prefecture.
Satoyume Co., Ltd. (head office: Chiyoda-ku, Tokyo; President: Shunpei Shimada; hereinafter "Satoyume") supports regional revitalization and business creation in about 40 regions nationwide. In May 2022, we acquired a travel agency license in Japan and newly established the "Satoyume Travel Division" in order to expand the encounters between "people" and the region and take a step forward in creating a sustainable community.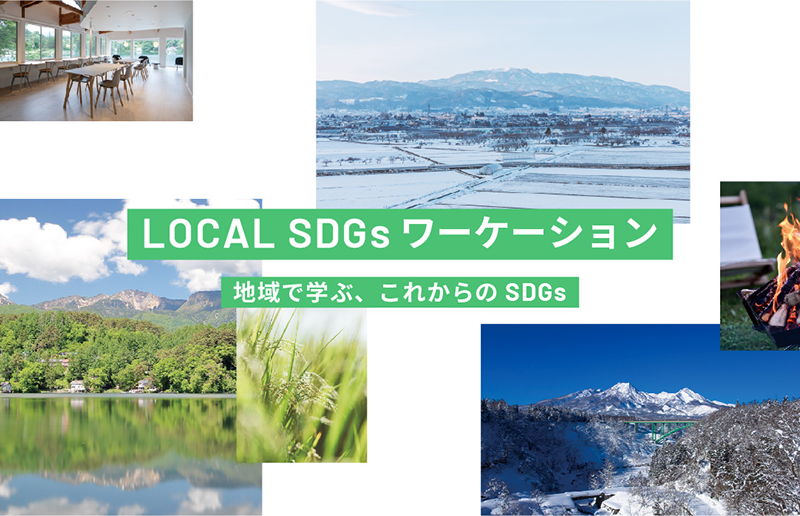 And from October 2022, we will start "LOCAL SDGs Workcation" as the first project of the Travel Business Department. This service is a new workcation aimed at a wide range of people who are interested in the region and develops human resources who will be responsible for promoting the local x SDGs through the experience of cutting-edge SDGs efforts in the region.
The content of this program consists of lecture-style sessions including the "SDGs Basic Course" by Ms. Ayako Sakurada, who is active as an eco-announcer, and cross-industrial exchange-type workcations by visiting three regions (Koumi Town, Nagano Prefecture, Kahoku Town, Yamagata Prefecture, and Myoko City, Niigata Prefecture) in Japan. It will run for 5 months.
SDGs Workcation Program: Background and Purpose
In recent years, with changes in social conditions and lifestyles, there has been a rapid increase in interest in work styles that are not bound by time and place. On the other hand, from the perspective of SDGs, as symbolized by the word "ESG investment," consideration of environmental and social issues has become essential not only for companies, but also for local areas.
Satoyume has promoted the development of sustainable local tourism and recreational areas in order to revitalize such movements. This time, the newly promoted "LOCAL SDGs Workcation" will carry out training and experience programs at local sites where SDGs are being practiced for five months. In addition to deepening the participants' understanding of the SDGs, we will develop human resources who will be responsible for promoting the SDGs at our company through cross-industrial exchanges and discussions.
Through this project, we will protect the regions of Japan, support the promotion of SDGs by companies, and provide a place of healing and relaxation for everyone working all over the country. We will provide new SDGs x Workcation that no company has yet done.
LOCAL SDGs Workcation's Value
The aim of this project is to provide participants, companies, and communities with the value of "sampo yoshi*," and to create opportunities to update their values and ways of thinking toward a sustainable society. By participating in 2 regions rather than 1 region, and 3 regions rather than 2 regions, we can provide more fulfilling learning and encounter opportunities.
*Sampo Yoshi is the thought and action philosophy of the Omi merchants, and "three directions" refers to sellers, buyers, and society as a whole. It means that the buyer should be satisfied from the bottom of his heart, and that the business should contribute to the development and welfare of the local community, rather than doing business solely for the convenience of the seller.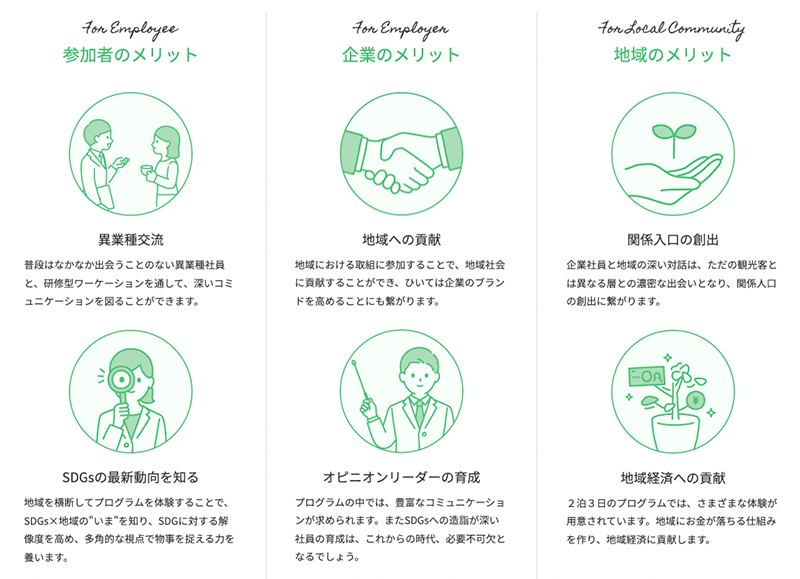 A total of 5 programs, including 2 lecture-style sessions and 3 cross-industry interaction type workcations that actually visit the area, will be implemented over a period of about 5 months.
In the cross-industry exchange type workcation, we will visit each of the three regions for two nights and three days. The number of participating regions can be selected depending on the plan, but by participating across regions, we will provide a more fulfilling learning experience.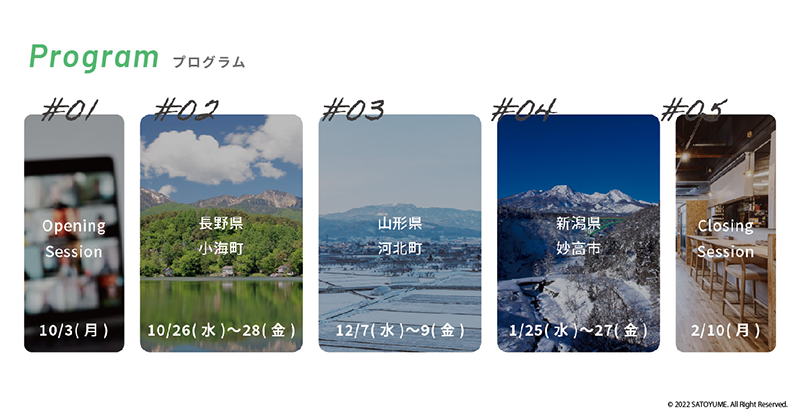 #01 Opening Session (2022/10/3)
In the opening session, there will be a self-introduction, an orientation including an explanation of the overall program, and an "SDGs basic course" by navigator Ayako Sakurada. By learning the basics of the SDGs and about the region before actually entering the region, you will make your local experience more meaningful. *Opening session will be held online
Navigator: Ayako Sakurada
#02 Koumi Town, Nagano Prefecture (October 26-28, 2022)
CONTRIBUTION TO ENERGY TRANSITION
Contribution to clean energy aiming for a decarbonized society considering global warming
Koumi Town in Nagano Prefecture, located at the foot of Kita Yatsugatake in the center of Japan, is attracting attention as one of Japan's leading starry sky spots due to its high altitude, clear air, high rate of fine weather and little light pollution.
We provide a unique program "Re Design Therapy" specializing in mental health care for employees of IT companies, and have an environment that accepts companies, such as a lakeside workcation facility. In addition, we are actively working on clean energy such as hydroelectric power generation and announced a zero-carbon concept in March 2022.
Things you can experience in Koumi Town (excerpt)
#03 Kahoku Town, Yamagata Prefecture (December 7-9, 2022)
DEVELOPMENT IN THE LOCAL CIRCULAR ECONOMY
Contribution to a recycling-oriented industry through interaction with local producers and chefs
Kahoku Town is a small town with a population of about 18,000 people located in the central part of Yamagata Prefecture. It is attracting attention as a model.
You can learn on the spot about the first production area of "Italian vegetables" in Japan, the recycling industry in which farmers, sake breweries, and livestock industries work together, and the efforts of the local trading company "Kahokurashisha" to rebuild the industry. You can interact with local leaders and producers and enjoy the food of Yamagata Prefecture.
Things you can experience in Kahoku Town (excerpt)
#04 Myoko City, Niigata Prefecture (January 25-27, 2023)
RESILIENT AND SUSTAINABLE CITY-DESIGN
Contribution to sustainable city development considering abnormal weather and water problems from efforts in heavy snowfall areas
Myoko City is located at the foot of Mt. Myoko, which is counted among Japan's 100 Famous Mountains. is blessed with abundant nature. It is also one of Japan's heaviest snowfall areas, and in the past, it was recognized as the world's number one with more than 2m of snowfall per day.
Such a winter environment poses a threat to the lives of the local community, but the accumulated snow melts through nature and is used in local industries, creating a culture unique to the Myoko region.
Things you can experience in Myoko City (excerpt)
#05 Closing Session (2023/2/10)
In the closing session, we will summarize what has been done so far. Share what you learned in each region with the participants, and what can you do from now on? Also, is there anything you can do in connection with your own work? Please use it as an idea for future activities.
We are planning to hold a real event somewhere in Tokyo, but you can also participate online. A certificate of completion will be given to those who have completed the course. A social gathering will be held after the session, so please come and join us.
Ayako Sakurada
From 1998 to 1998, she was in charge of weather broadcasting on a TV program for 8 years. Since 2007, she has been working as an eco-announcer to support ecology and economy. She also deepens her learning by participating in the activities of NPOs / NGOs related to the environment and SDGs.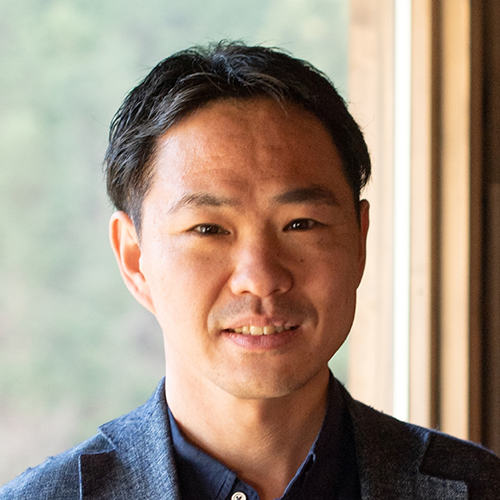 Shumpei Shimada
Founded Satoyume in 2013 after working at an environmental think tank. With the mission of "realizing the dreams of hometowns", we support the commercialization of local businesses in about 40 regions nationwide, from strategy formulation for regional revitalization to product development and sales channel development.
In 2019, the decentralized hotel "NIPPONIA Kosuge Genryu no Mura" was opened in Kosuge Village, Yamanashi Prefecture, based on the concept of "a village of 700 people in one hotel". He also serves as the representative director of Marugoto Co., Ltd., a joint venture with JR East.
Takeshi Asahara
In 2002, he joined the Shinanomachi government office and was in charge of the Iyashi-no-Mori project, which incorporates a regional revitalization concept based on the keywords of "health" and "environment" advocated by Mr. C.W. engaged.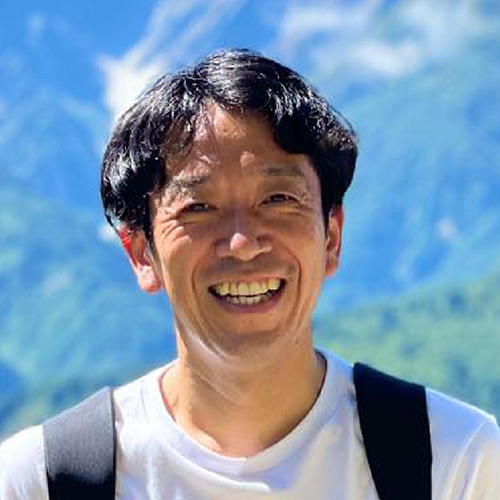 He was the first in Japan to introduce forest therapy, and established a collaboration model that achieves both regional revitalization and corporate soundness by partnering with Shinanomachi and more than 40 urban companies. After retiring in 2016, he has been involved in regional revitalization for local governments nationwide as a consultant.
This time, we have prepared three plans at special prices according to the number of participating regions. Those who participate in the three regions will be able to receive a "special interview with the navigator (about 1 hour)" where they can freely consult about SDGs and local initiatives. (All prices do not include tax)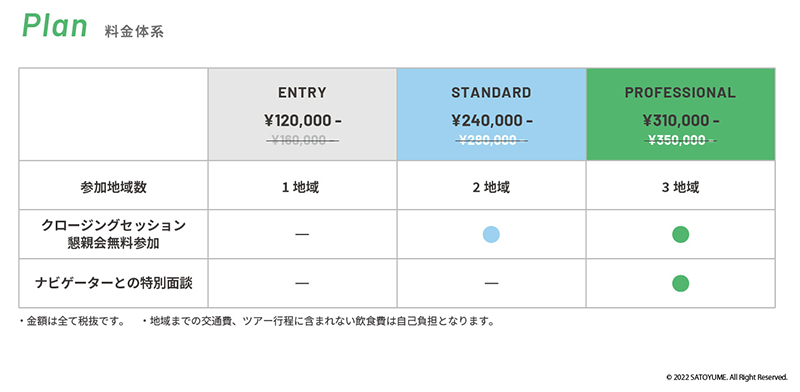 Included in the travel fee
Transportation expenses from the meeting place to the dissolution place
Meals (2 lunches, 2 dinners, 2 breakfasts)
Hotel fee
Program experience fee
Facility usage fee
Workshop participation fee
Facility tour and guide fee
Not included in the travel fee
Transportation expenses from each departure point to the meeting place and from the dissolution place to each departure point
Food and beverage expenses not included in the tour itinerary
Free Online Briefing Session
The first online briefing session will be held from 17:00 on September 13th (Tuesday). In addition to explanations about the program and region, there will also be a special lecture by Mr. Shimada, representative of Satoyume, who will act as a navigator. Please use the entry form below to apply. *Additional events will be held after late September.